Boston area May '99 DVD Meet Pictures
Pictures taken with Kodak DC210 Plus Digital Camera
---
On Saturday May 1, 1999 the Boston area DVD group meet again, this time with Ron Epstein and Chris Dugger attending. We meet at Bickfords for breakfast then went to Hi-Rez for a Color Calibration Class with ISF tech Jim Doolittle. We also stopped at Sight & Sound for their 30% off DVD sale. I would like to thank Gary Guidi from Hi-Rez for the use of his facilities and Jim's time for his seminar; Hope it was not too crowded for you Jim.... Here are a few pictures of our day.
Note: Some of the dates are wrong. By camera had a coronary when the batteries when dead and in my haste forgot to reset the date...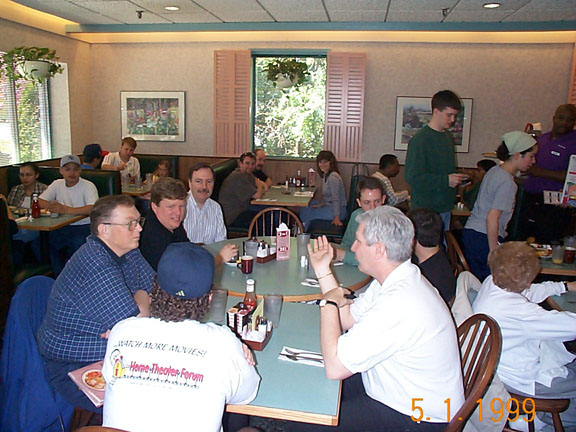 Here we are having breakfast. Chris and Baptiste are sitting with my wife away from Ron (who's back is towards us), because they were giving Ron such a hard time the day before, thus they had to be segregated. Of course those two together sitting with my wife was not the smartest of ideas... Just kidding guys, but I think the patrons owe Chris and Baptiste a few $$ for their comic relief while in the booth; Either that or they were appalled and moved to another table.....
Ahhh all the comforts of home.. Sorry to bother you gentlemen while watching Speed at Hi-Rez. Boy, that 13 gain screen has a real negative effect on the eyes. Fortunately Chris came prepared. I guess Baptiste will be too blinded to drive his new Porsche home...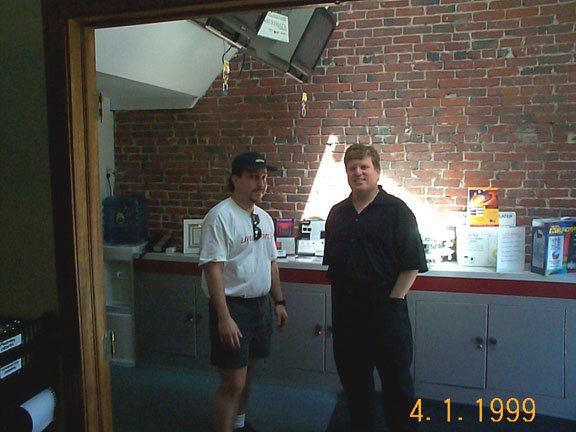 Here are Ron and Greg in the front lobby of Hi-Rez. Ron looks relaxed now that his two nemiseses are trapped in another room and one of them is blinded... I don't now how long I can keep them at bay Ron.....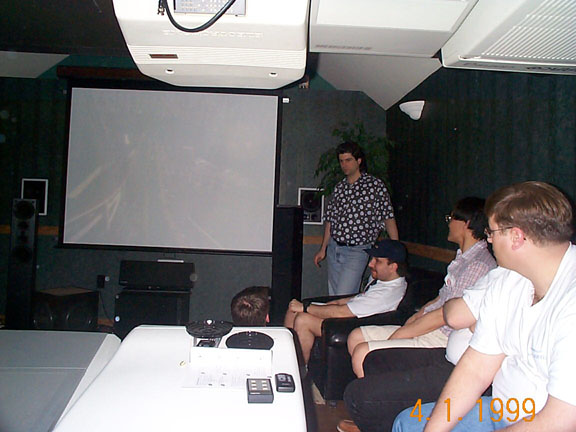 Here we are with Jim Doolittle in the Color Calibration Class. A very educational seminar. Jim talk and demonstrated Gray Scale calibration and the effects of having your set improperly calibrated..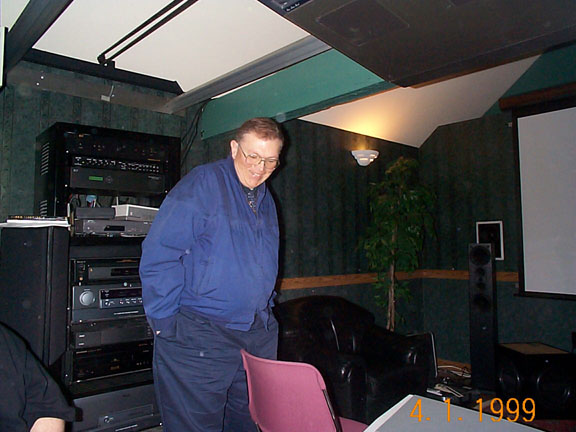 Here's Bob admiring the Electrohome Marquee FPTV we were using during the Color Calibration class. Bob I am not sure how you are going to get that into the house without your wife seeing it....